One of the most common questions agents ask after building their websites is if real estate search engine optimization (SEO) is still an effective lead generation strategy. The answer may surprise you. You can easily outrank your competition by investing some time and effort, using basic SEO strategies that most Realtors either don't know or don't bother with.
Real estate SEO is the strategy real estate websites use to improve their ranking on search engines like Google, Yahoo, and Bing. The higher your website ranks on a search engine, the more people will see it and hopefully click on it. This translates into more site visitors, and if your website is optimized for lead capture, more buyer and seller leads in your CRM.
In 2022, Google uses advanced artificial intelligence (AI) to decide which websites and pages rank on the first page of the search engine results page (SERP). Since Google wants to deliver the best and most relevant results, they continually tweak their AI to make sure the most helpful results rise to the top on the search engine results page.
Of course, publishing content that answers common questions that your target audience is asking on Google is not enough to rank well in 2022. After all, thousands of websites are likely to publish content similar to yours. As a result, Google also considers factors like the expertise of the person writing the content, the quality of the website, how easy the content is to read, among other factors.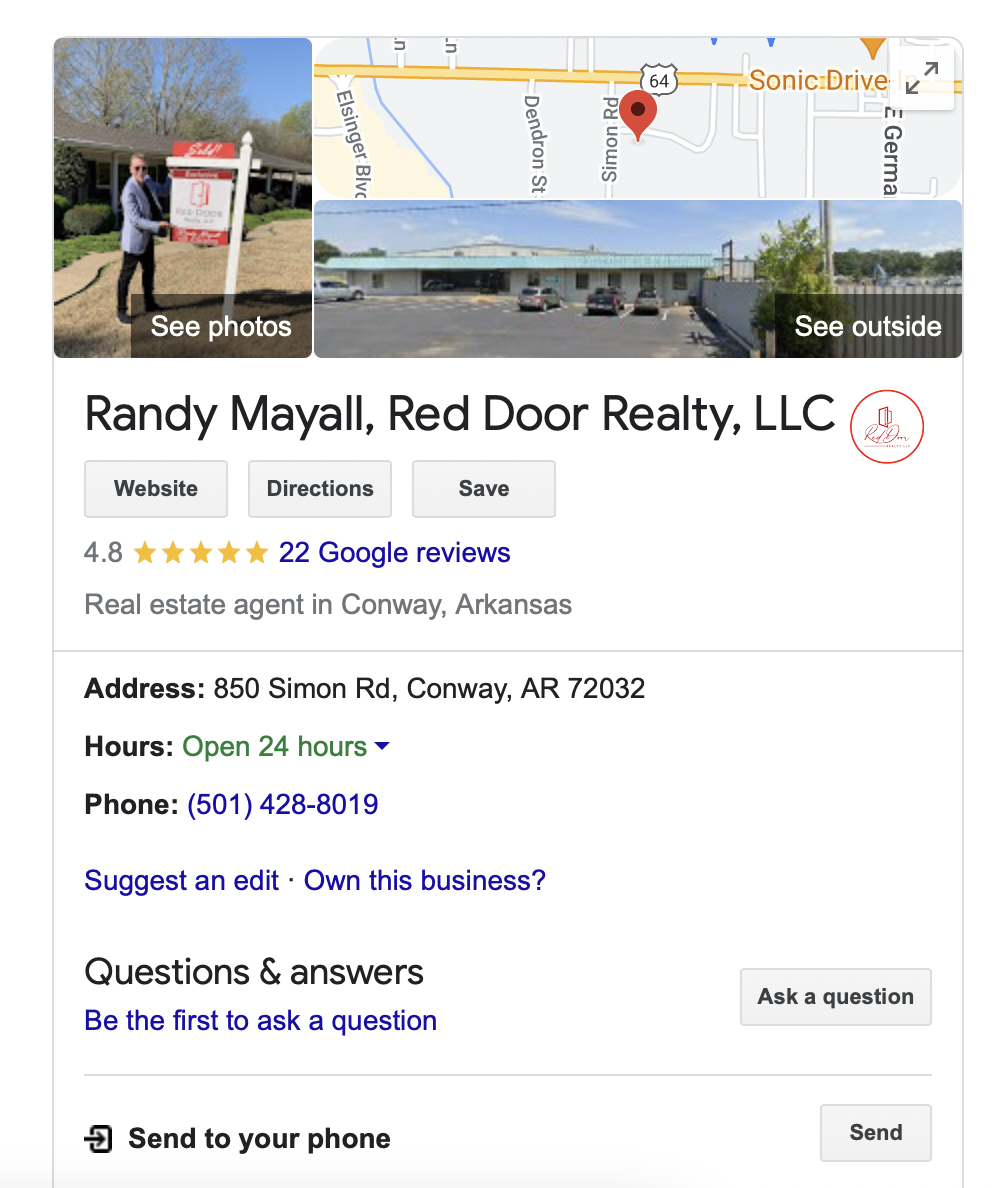 Claim your Google Business Profile. The Google Business Profile is Google's tool for indexing local businesses for search on Google Maps. This is important in 2022 because Google Maps results are almost always at the top of search results pages (SERP) for searches related to real estate. For example, when I search "real estate agent" , Google puts a map of nearby real estate brokerages at the top.
Step 1:  Start by going to google.com/business
Step 2:  Log in with your Google account
Step 3: Enter your business name
Be sure you spell your name correctly and use Title Case (where you capitalize the first letter of each word.) This is the first impression for a customer, and you want to make sure it's a positive experience. 
Step 4: Enter your business address
This screen is where you'll enter your business address, so Google can verify that your business exists. This cannot be a post office box or mailbox in a storefront like Postal Annex or UPS Store. You can also only have one business per residence.
Step 5: Choose whether you're a storefront or a service provider
Here's where you choose whether you want customers to visit your storefront or if you work from home or would prefer your customers don't visit your office; you can choose a mile radius around your business, a specific city or state, or a group of zip codes. 
Step 6:  Choose your Primary business category
Choosing your primary category is very important because it dictates where and when you will show up on Google searches. Google is all about relevance, so if a potential customer searches for "Italian Restaurant" but you're a pizza place, then you may not show up. If the customer searches for "Best pizza near me," then you'd have a much better chance of your business profile showing up in the search results. 
Step 7: Add your phone number and website
Both phone calls and website clicks are tracked by Google Business Profile, so make sure your information is correct here. 
Step 8: Verify your local listing (most likely with a postcard)
According to Google, to manage your business information in Search, Maps, and other Google properties, you must verify your business listing. The verification process helps Google make sure your business information is accurate and that only you, the business owner or manager, have access to it.
Once your Google Business Profile is set up, you can edit it from Google.com. Just search for your business while you are logged in to your Google Account.